Do you have an American Girl fan site? We would love to interview you!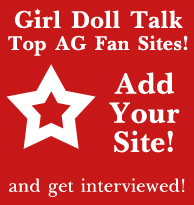 Nearly every week we get requests from girls who want to be interviewed about their fan site.
Which ones to pick? Well, how about a contest?
Just add your site to
Girl Doll Talk's Top 10 American Girl Fan Sites
! Each month we'll see whose sites are in the top 10 and select one or more to interview!
We'd love to let the world know about your site!
Click here
, add your site, and then let your fans know about the contest so they can vote for you!
We look forward to talking with you!